A foodies dream, a feasting experience and an abundance of food to wow your guests. The signature table is our rustic bohemian chic grazing table laden with delicious artisan cheeses, British cured meats, Pate, freshly baked bread, roasted & spiced nuts, dried and seasonal fresh fruit (etc.)… spilling over metre long tables.
Menu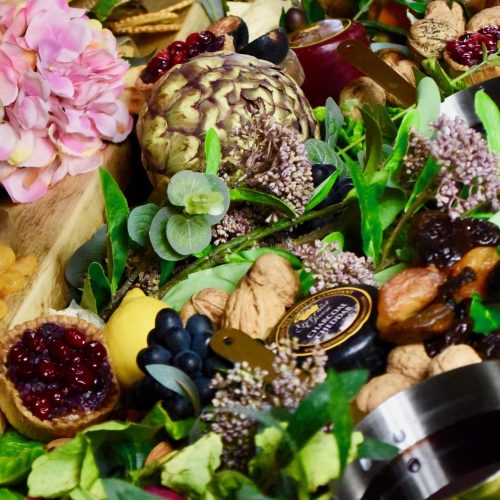 Artisan chesses
Cured meats
Pates
Drips
Gourmet crackers
Fresh bread
Olives
Pickles
Scotch eggs
Pork pies
Fresh and dried fruit
Our very own unique chutneys
Herbs
Oils
Spiced and assorted nuts
The secret to grazing tables are good quality food and styling is the key, no two tables are ever the same.
The standard signature table is a flat laid grazing table created on top of a bed of fresh foliage with rustic and natural colours. If you want to create a more lavish experience then add our decadent and luxury styling package which gives different heights, colours, textures, boards and props creating a feast fit for kings and queens.
And The Signature Table doesn't just stop at savoury. With our Naughty but Nice table with freshly baked pastries, sweets, chocolates and brownies it's heaven for those with a sweet tooth.
Signature Grazing Table Options
Hire of Folliage needs to be posted back within 48 hours of the event. 
1.5M, IS MINIMUM, 45 PEOPLE – £950 + £100 FOLLIAGE HIRE
3M, 90 PEOPLE – £1,750 + £100 FOLLIAGE HIRE
4M, 120 PEOPLE – £2,400 + £100 FOLLIAGE HIRE
---