Our Bespoke Table is ideal for weddings, corporate or any other major event that you have planned. This includes: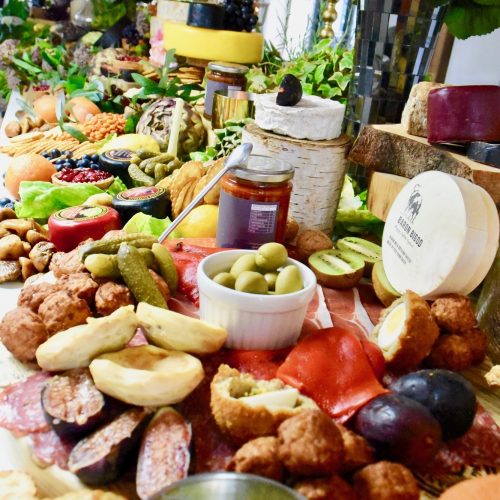 Creating your own bespoke menu for your event
Create a flavoured cheese that is unique and personal to your own taste. (Whether it be a Kir Royale for a wedding or a gin and elderflower for a corporate event.)
Included is our Decadent and Luxury styling package, where you will meet with our stylists and together create and design a table that will leave your guests wanting more.
Menu
The Bespoke Menu includes everything that the Signature Table Menu offers PLUS:
Create your own unique flavoured cheese
Personalised British Pork Pies
Personalised chutneys
Wedding and corporate consultation service
All of our wedding consultations are held after shop opening hours, so you have the shop to yourselves to try all the cheeses and talk through all the details of your day. Every order is bespoke to you and can reflect your personal tastes.
Cheese stacks are the perfect savory alternative to a traditional cake and can be decorated with fresh fruit and veg.
If you are just looking for a really great cheese board selection, we can help. Everything is available to try and we can guide you through the best style combinations to create a balance and delicious board.
Bespoke Grazing Table Options
1.5M, IS MINIMUM, 45 PEOPLE – £1,350 INCLUDING FOLLIAGE AND BESPOKE TABLE SCAPE
3M, 90 PEOPLE – £2,340 INCLUDING FOLLIAGE AND BESPOKE TABLE SCAPE
4M, 120 PEOPLE – £3,120 INCLUDING FOLLIAGE AND BESPOKE TABLE SCAPE
---